We would like to introduce our international, inter-denominational, community foundation, the Friendship Foundation Hungary (officially called the Friendship Charity Foundation) registered in Hungary in 2003.
The object of the Foundation: The promotion of the physical, psychological, spiritual, moral and financial improvement of the socially disadvantaged. Education, skill-development, offering information and knowledge plus, protection of children and youth.
The members and partners of the Foundation are Christians with living faith, who follow and serve Jesus Christ. The education of the mentally needy – with special regard to the Gypsies – concerning the Biblical Christian way of life, moral life, work, human relationships etc. Presently, we are doing work in Southern Hungary and the northern parts of Croatia and Serbia and Romania.
The activity of the Foundation is helped by the voluntary offerings and support of home and foreign individuals, churches and companies. At the end of every year we issue an official tax certificate concerning the paid donations, which can be claimed at the Hungarian tax authority.
If you would like to support our Foundation financially, we kindly ask you to remit your contribution to the following bank account or to the address of the Foundation by postal order.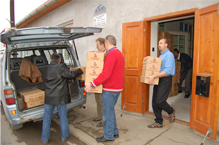 The inspiration of the Foundation is the Biblical story of the Good Samaritan (Luke 10: 25-37). 'Love your neighbour as yourself.'